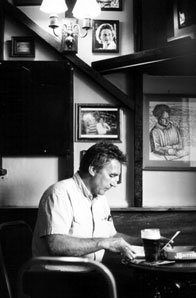 Jeff Towns is one of the world's leading Dylan Thomas experts. An antiquarian bookdealer by trade, based in the poet's home-town of Swansea, Jeff was originally known, both locally & globally, as 'Jeff the Books'. He is now known simply, affectionately and professionally as 'The Dylan Thomas Guy'
Why? Well it probably has much to do with 40 odd years of seeking and searching and scouting and scouring, procuring, securing, digging up & dusting off the treasures left behind by Dylan Thomas….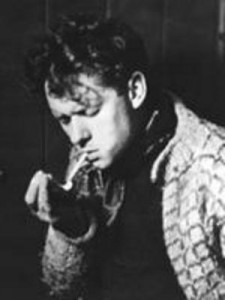 This labour of love has left Jeff with a wealth of Dylan Thomas knowledge, extensive contacts and many, many manuscripts, notes, letters, pictures and books by and about Dylan Thomas.
Jeff's Dylan Thomas collections sit in museums and institutions from Kyoto in Japan, to Texas, via San Francisco and all the way from Abertawe to Aberystwyth & the National Library of Wales…
His Dylan Thomas exhibitions have hung in Barcelona and at the Royal National Theatre in London and are a permanent fixture in The Dylan Thomas Centre Swansea.
He has sold rare Dylan Thomas books and manuscripts to Mick Jagger, Bill Clinton,  Jimmy Carter, Prince Charles, Peter Blake, Cerys Matthews, Catherine Zeta Jones & Allen Ginsberg….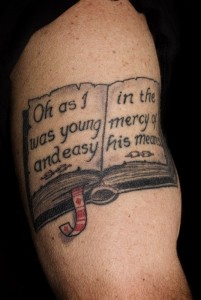 When it comes to Dylan Thomas Jeff has been there, seen it, read it, loved it, borrowed it, begged for it, bought it and even gotten the tattoo…seriously it's on you tube!!
(see film of Jeff getting his Dylan Thomas Tat!  you tube
Jeff is still an active and evergreen antiquarian bookseller, a published author, a public speaker,  documentary maker, regular media commentator across the written press, TV & radio, and  more recently an artistic consultant specialising in all things Dylan…..hopefully this site will assist you in finding out where Jeff,  AKA 'the Dylan Thomas guy" can best help you…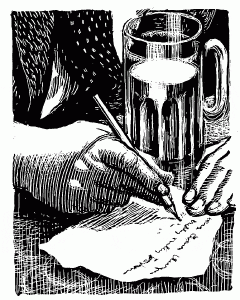 .