JEFF TOWNS
DYLANS BOOKSTORE
THE NEWTON BOOKROOM
THE OLD MANSE
5  SUMMERLAND  LANE , NEWTON, SWANSEA, SA34UJ
Wales, UK.
TELEPHONE: 01792 360483 / 01792 655266 ~ MOBILE 07850 759199
E-MAIL: jefftowns@dylans.com
TWITTER: @dylanthomasguy
FACEBOOK: Jeff Towns
DYLANS MOBILE BOOKSTORE
Should you wish to browse [and BUY] at The Newton Bookroom or our other  store-room at  23 King Edward Rd in Swansea [which is full to bursting with  Welsh interest books]   a prior phone call or e-mail will get them  opened up any day, including weekends. 
Our Main Bookroom and office is located in the grounds of The Old Manse in the village of Newton just  up above Mumbles where Dylan acquired his taste for beer. The Old Manse was once the vicarage to  Paraclete Chapel.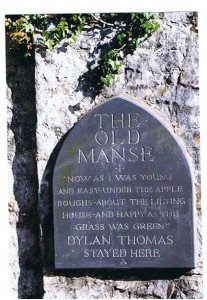 It  is a house where the young Dylan Thomas often stayed for weekends and holidays with his aunt Dosie and her Husband – The Rev. Rees who was the esteemed minister of the chapel.