DYLANS BOOKSTORE SWANSEA – An ARTHUR MACHEN List – A small group of Machenalia from the library of the late  Geoffrey Wooley, who was born in Tredegar in 1915 and for 30 years, from 1953 until 1982, edited the highly influential Letters Page of The Times newspaper. He was a keen bibliophile and book collector who never lost touch with his Welsh Valley roots and was drawn to the works of local writers, many of whom he came to know. His obituary can be found here:
http://www.independent.co.uk/news/obituaries/geoffrey-woolley-times-letters-editor-whose-pages-helped-set-britains-public-agenda-1922896.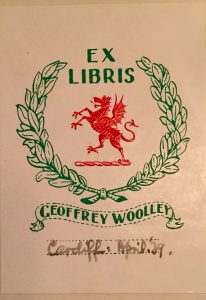 The Works of Arthur Machen: The Caerleon Edition of the Works of Arthur Machen. Martin Secker, [1923]. 9 vols., 8vo., First Edition, on laid paper, with a portrait frontispiece in photogravure (original tissue guard present); original oatmeal buckram, upper boards blocked and lettered in gilt, gilt backs, gilt tops, uncut. A very good, bright, crisp set. EDITION LIMITED TO 500 NUMBERED SETS each SIGNED BY THE AUTHOR IN FIRST VOLUME. This is set Number 136. [A further 500 numbered sets were produced for sale in the US].The definitive edition of Machen's works. The set comprises Vol. I: The Great God Pan, The Inmost Light, The Red Hand; Vol. II: The Three Imposters; Vol. III: The Hill of Dreams; Vol. IV: The Secret Glory; Vol. V: Hieroglyphics; Vol. VI: A Fragment of Life, The White People; Vol. VII: The Terror, The Bowmen, The Great Return; Vol. VIII: Far Off Things; Vol. IX: Things Near and Far. All volumes have Geoffrey Wooley's bookplate on the front pastedown and tipped into Volume 1 is a good  autograph letter – one and half pages with original envelope dated August 1944, from Machen to 'Dear Captain Wooley' in which Machen comments on recent biographies of himself. ……………………..…..£1000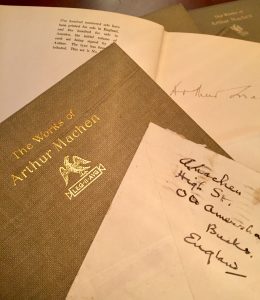 Notes and Queries. London: Spurr & Swift 1926.Edition of 265 SIGNED COPIES – this being  copy 133. Original green Buckram with paper label a tad stained [a second label is tipped inside back page] .This title collects papers that originally appeared in "T. P.'s Weekly" (1908-9)..  good copy of a scarce book..……£110
Dreads and Drolls. London: Martin Secker, 1926. COPY NUMBER 1 of a Limited Edition of 100 SIGNED copies. Original parchment and paper binding .On the front endpaper this copy is  further SIGNED and Dedicated by the Author to his Monmouthshire friend Albert Adams Williams, dated October 21st 1926. In effect the 'dedication copy. A very fine and desirable copy. A collection of curious stories taken from British history, "most of these strictly veridical", many linking to Charles Dickens. GOLDSTONE & SWEETSER 34a………………..£150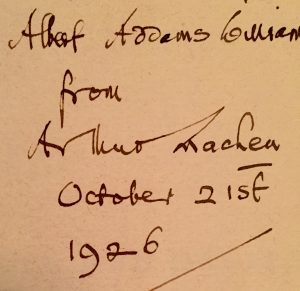 Henry Danielson, Arthur Machen, Henry Savage (Introduction) Arthur Machen : A Bibliography (Signed, Limited). London: Henry Danielson, 1923. "This Edition, printed on English hand-made paper, is limited to 150 copies for both England and America, numbered and signed by Arthur Machen. This is No. 17.", with tissue guarded frontispiece portrait. Paper covered boards show slight wear, and age. Gilt title to front board still very bright. Thick vellum spine light lightly aged . Sewn binding extremely tight. Silk page marker present, as called for. :aid into the book is an early Machen booklist from Kyrle Fletcher, a newpaper cutting re Machen as Actor and an early issue of The Silurist –  The Machen Society Newsletter……….£75
Beneath the Barley – a note on the origins of Elueusinia. London, 1931, Privately Printed in an edition of just 25 copies . Text signed by Machen. Wood engraved portrait of Machen signed by the artist Edward Carrick. With a signed presentation inscription to Henry Spurr from the printer T. Fytton Armstrong and John Gawsworth – Machen's Biographer. RARE……………………………………………………………………….SOLD
A fine early 7 page Autograph Letter from Machen to 'My dear Mr. Ker**** Dated July 1919 on embossed paper. Mentions J.K.Jerome, Watts Duncan, Swinburne and Harold Begbie who accused Machen of  lying  in his book The Bowman………….£450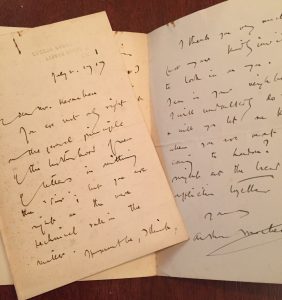 Romance of The Echoing Wood. By W.J.T.Collins. Newport: R.H. Johns, 1937. Introduction by Arthur Machen and an epilogue by Newport poet William Henry Davies. Charming art noveau borders and illustrations by E.F. Powell.  Limited edition of 220 copies – This copy number 37 of 50 'Special' copies bound in full green morocco gilt and SIGNED  by Arthur Machen, W.H. Davies, the author, the artist and the printer. Original prospectus tipped in. A handsome and scarce book ……….£200
Monmouthshire Writers by W.J.Townsend. Johns Newport 1945. Geoffrey Wolley's review copy with his letter from Trewin at The Observer commissioning him which has his review notes on the verso and a cutting of his review. The book contains a portrait and account of Machen …………………………………………………….SOLD
DYLANS BOOKSTORE SWANSEA
jefftowns@dylans.com
The Danish call it Hygge. Simple pleasures. Warmth. Comfort.
The #GoodLifeExperience is totally Hygge. A big warm Welsh hygge as Summer welcomes Autumn.
Listening to Mike Garry perform his St. Anthony on a Sunday afternoon with a four piece string quartet whilst drinking a pint of Good Life Ale is definitely hygge.
Baskets and bundles of free apples and pumpkins scattered everywhere. That's Hygge.
A Friday night in the Caught by the River tent watching #SteelingSheep, a 3 piece girl band dressed in polka-dotted onesies. The band. Not us. Hygge.
The BookBus was in Hygge heaven. With our new neighbours and new best friends #TheMightyBooth photo kiosk opposite pouring gin and juice at breakfast, and a group of mellow chain cigar smoking Cubans sharing their giant Cuban cigars on a stall alongside us.
2 artists in residence. #DanLlewellynHall sketching and etching live … and beat-graffiti artist #SimonDark selling prints and quotes of our favourite heroes and hustlers and hosting #poetictype. Those soft sounds of groups of young wannabe poets huddled up on hay bales tapping out tales on our vintage typewriters. Hygge.
A story telling session to 30 kids outside the Bus on Saturday afternoon to launch a new book by Swansea based author/illustrator combo Helen & Tom Docherty (The Knight Who Couldn't Fight)
The sounds of single men and women wondering what Blind Date Book to buy.
The multitudes of music from the William Gladstone Tent next door drifting in through the open window of the BookBus – whether two Parisian street performers, Donna Somerset's mobile disco, or Dj78 spinning shellac.
An exclusive Saturday night reading from Dr Mike Garry on board the bus… Just 12 people crammed in to get a look and a listen, others crowded around the doorway, all recorded by our new resident film maker Leanne Dimant who was following Jeffas and documenting 48hours of festival life aboard a Dylans Mobile Bookstore.
BookBus regular raconteur-slash-rigger Matt Plumb rolling up and reeling off a few of his latest rhymes before retreating back into the woods ( last seen at the honey whiskey tent)
A Saturday night spent in the company of those cool cats #CaughtBytheRiver …our hearts stolen by a singer from New Zealand. Aldous Harding – holding us captivated with her eerily enchanting tunes and freaky facial ticks. Channelling something quite medieval. Think Bjork meets Christine & the Queens with a little Anthony & the Johnsons thrown in and the briefest, slightest Flight of Conchord humour in her banter. Backed up by the brilliant H Hawkline.
A big brass bossa nova beat from a 13 strong Brazillian band keeping us bouncing in the big top tent until the harvest moon led us back to the campsite.
A choice of whether to pitch your tent in the pear orchard or the apple orchard or on the strawberry field. So Hygge.
There was even time for a run for some on Sunday morning. Wild Running. But we had to be quick because we didn't want to miss the headline act. The BookBus boys Jeffas and #CeriMurphy waking up the festival with a hoot and a Howl. Ginsberg's words cascading from the Caught by the River Tent and across Gladstone's Garden.
Other notable stuff too…
Talks on How to skin a deer, brew a beer, make a bow and arrow, speak Welsh, know what bugs are safe to eat, fashion whiskey out of bees, build a bicycle, sail a coracle, carve a pumpkin, climb a tree, wood craft, bush craft, camp fires, foraging, feasting, business for bohemians…Community running clubs who do good deeds along their way, how to make the best jeans in the world, how to be idle, yoga, chocolate meditation, and poems about farting. Such energy and imagination everywhere…
Wales' Roald Dahl – who would have been 100 years young this week – once wrote
"If you have good thoughts they will shine out of your face like sunbeams and you will always look lovely"
Well we've arrived home from the Good Life Experience looking tired but lovely …with a face full of sunbeams…heads and hearts full of good thoughts.
All in all a delightfully gentle, hugely Hygge way to round off the festival season. The BookBus and its workers are ready to hibernate. See you in the spring.
And a special thanks to all our team for their hard work and amazing ideas ( Huwie, Carol, Becky, Si, Dan, Leanne, Ceri, Jeffas, Gwawr and Joe) ….
…and a big big Diolch to Cerys Matthews and Steve Abbott, for inviting us along, and to the Gladstones for opening up their gorgeous garden and letting us run wild in it and enjoy the Good Life!
Donatien Alphonse François, Marquis de Sade (2 June 1740 – 2 December 1814), Leopold Ritter von Sacher-Masoch (27 January 1836 – 9 March 1895) and Dylan Marlais Thomas (27 October 1914 – 9 November 1953)
Three writers not often mentioned in the same heavy breath but a recent addition to my Dylan Thomas collection has prompted me to think along these lines.
Fresh Girls & Other Stories by EVELYN LAU is an intriguing collection of short prose fictions. It was published in 1993 by Harper Collins in Toronto in their series of 'Saturday Night Books'. The dust jacket blurbs will give you an idea of what we are dealing with:
"What Ann Rice does for Vampires Evelyn Lau does for sex: fills us with a kind of longing for perverse pleasure and pain."
"… Lau explores realms of sexuality which might seem foreign and bizarre "
"Lau explores the forbidden"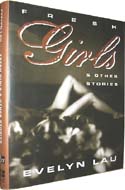 And we learn more by delving into a little of Lau's biography – .Born Vancouver 1971, at 17 after living on the streets of Vancouver for two years she writes the bestselling 'Runaway: The Diary of a Street Kid'  [ blurb- 'An unforgettable and true story of a young girls life on the street']. This is made into CBC TV film, but Wiki' has it thus:
Lau was born in Vancouver, British Columbia to Chinese-Canadian parents, who intended for her to eventually become a doctor. Her parents' ambitions for her were wholly irreconcilable with her own; consequently, her home and school lives were desperately unhappy. In 1986 she ran away from her unbearable existence as a pariah in school and tyrannized daughter at home.
Evelyn Lau began publishing poetry at the age of 12; her creative efforts helped her escape the pressure of home and school. In 1985, at age 14, Lau left home and spent the next several years living itinerantly in Vancouver as a homelessperson, sleeping mainly in shelters, friends' homes and on the street. She also became involved in prostitution and drug abuse.
Evelyn Lau is now a successful writer and poet but Fresh Girls was her first book. There are ten stories in the book and it is the eighth story which intrigues me most.
It is entitled MERCY and it opens:
"It is your wife's fortieth birthday, and I am torturing you to the sounds of a tape of Dylan Thomas giving a poetry recital. His voice is theatrical, and at times it hovers at the edges of breaking into song. 'Do not go gentle into that good night… Rage, rage against the dying of the light…'"
His words, charged with command, seem to pulse through my own body. Obediently I slip the spiked heel of my shoe into your mouth."
And it goes on thus for nine pages, S&M to the tune of Dylan's great elegy for his blind and dying father:
"I will not go gentle into you. The high heel of my shoe is your mouth….
"'Old age should burn and rave at close of day,' Thomas instructs sternly. Perhaps only in the clutches of pain, when your eyes are closed and your lips are forced apart, does the day seem long."
And the last paragraph begins:
"It is your wife's fortieth birthday and Dylan Thomas's voice slows to a stop on the tape. You edge out the door with the sun bouncing off your glasses and your briefcase tucked under your arm."
I like the story but how will I feel at the next Welsh funeral when this poem is sombrely intoned – what images will leap into my mind. I fear it will never be the same again.
And then this story reminded me of another long lost conflagration of this terrible trio – Thomas, de Sade and Mascoch. An artwork I have had for some decades – A temporary installation by Bradford born, but Swansea based artist Paul Darden,  photographed by Swansea photographer [and drummer] John Corbett 'in situ'  at the Dylan Thomas Memorial Stone in Cwmdonkin Park Swansea.  Not a great Dylan Thomas fan, Durden is often to be found  'singing  in his chains like the sea' while dressed only in this, his Sunday best, leather and steel posing pouch…. And now the original is evading my attic search but when I find the image, – a leather and chain  posing pouch draped on the memorial stone which is inscribed with the words from the end of  Dylan's greatest poem – FERN HILL – "Though I sang in my chains like the sea" – it will get posted here.
A writer as well as an artist Paul co-wrote the script to the classic Welsh Film Twin Town starring Rhys Ifans and his brother. The film is a dazzling funny, sordid, loving but brutal depiction of the East/West, Have/Have Nots dichotomy that is  Swansea City in all its horrible glory at the close of the twentieth century. The script quotes Dylan Thomas who also alluded to this dichotomy, describing his Swansea Town as an 'UGLY LOVELY TOWN'. I urge you to watch it if it passed you by.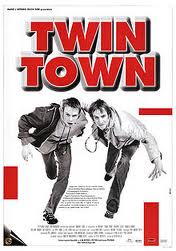 The Film has an early scene which also endeavours to come to terms with Dylan Thomas's legacy and meaning to the Town. I quote from a rare draft original shooting script:
SCENE 10. EXT.SWANSEA RAILWAY STATION. DAY
GREYO and Terry are leaning against the wall, beside the large automatic double door. They are smoking cigarettes. Terry is staring at a huge mosaic sign set into the pavement concourse in front of them. It's not graffiti, it's a sign. It reads… " AMBITION IS CRITICAL"
TERRY
What the fuck does that mean Greyo ?
GREYO
What?
TERRY
That. Ambition is fucking critical
GREYO
It says ambition is critical. There's no FUCKING in it. It's a play on words.
TERRY
A what?
GREYO
Dylan Thomas
TERRY
Ugh!
GREYO
The poet, Dylan Thomas. He said Swansea is the graveyard of ambition. He was right.
TERRY
Did he write that?
GREYO
No! The council wrote that. Or they probably employed another poet to do a little ditty and he…or she, came up with that. Ambition is critical.
TERRY
Three words. They got a poet to do three words! You call that a fucking poem?
GREYO
You can have as many words as you like in a poem, it doesn't matter.
TERRY
Is it supposed to be funny?
GREYO
No. It is supposed to be clever. Dylan Thomas also called Swansea an ugly lovely town
TERRY
I'd call it a pretty shitty city.
GREYO
Yeah, but Dylan Thomas didn't do as much fuckin' cocaine as you, did he?
TERRY
At least mine fucking rhymes! Three words 'an all. Pretty. Shitty. City. I fucking like that. Pretty shitty city. Pretty shitty city. Three fucking words. I likes that.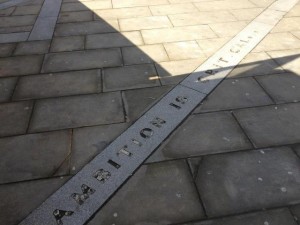 ***********************************
[We later learn that Greyo and Terry are bastions of the local police drug squad!]
[WATCH THE FILM TO FIND OUT MORE]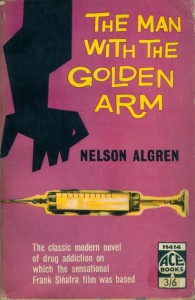 On his second reading tour to America in 1952, the only visit he made with his wife Caitlin along too, Dylan Thomas revisited Chicago to give a reading for Poetry Magazine. He had read at the University on his first tour and told John Malcolm Brinnin, his unofficial 'tour manager',that it was the only mid-West town he wanted to revisit, although in letter to the poet John Nimms [1] he included Chicago in a list of things and places that frightened him.
His Hostess for the visit was a local grandee, Ellen Borden Stevenson the former wife of the politician Adlai Stevenson [and the woman who would make a generous offer to pay for the best independent specialists to be brought in when Dylan lay dying in St. Vincent's Hospital in New York, a little over a year later].
Ellen had arranged for one of Dylan's favourite American authors, Nelson Algren to come and join them. Algren's novel The Man with theGolden Arm had won the first National Book Award in 1950.
The meeting went well enough but Algren was moved to comment on the drinking of both Caitlin, who he thought had a real problem and was to be pitied, and Dylan of whom he remarked,
  " I was neither poet nor lush enough to appreciate him fully. You have to feel a  certain desperation about everything either to write like that or to drink like that."
In a later interview Algren was asked about his own anger and innocence, and replied,
      "'Oh I don't go around being angry….as for innocence I think it is a very lucky thing if its an achieved innocence, if it's something that happens to you. I think Dylan Thomas was an innocent. You have to go through the world to get that sort of innocence."
 But it was in a short review of John Malcolm Brinnin's 'Dylan Thomas in America', which Algren wrote for the Chicago Sun Times in 1956, that he is at his most interesting and amusing and it is worth quoting at length,
   "  This reviewers goods being prose, I was not intimately acquainted with the product being handled by the poetry trade in the fall of 1951. I felt myself on more solid ground in discussing beer than the avant garde.
              My first concern, therefore, in meeting Dylan and Caitlin Thomas was to limit the the conversation to the virtues of local brands of malt and hops. Discoursing quietly yet commandingly – I had at that time a certain nasal quality that was not without its own peculiar charm –I advised my guests of my work with Michelob, Budweiser, Edelweiss and Schlitz.
      I would have done better to stick to poetry. Thomas' own studies had been extended to Persian, Icelandic, Manx, Mexican, Frisian, Turkish and Moorish beers. He was a philosopher of beer, a prophet of beer, a John Foster Dulles of beer. [2]
Outclassed, I made one last weak try. "Anyhow," I told him, "I once knew a man named Champagne who drunk nothing but beer."
   "I knew a man named Beers who drank nothing but champagne," Thomas assured me,
I decided I liked him whatever his trade, and we went off in search of either beer or champagne. We found both."
Algren also offers a more serious and poignant judgement.     
  "Before he died it was at last borne in upon me that I had been greatly privileged.
              I had been with a great man, the only great man I had ever Known.  "                                  
It is interesting to note that just a few nights later, and back in NYC, Dylan was to have his only meeting with Alan Ginsberg – from a proto beat in Chicagoto the real thing in New York in just a few days!
[1]It seems a shame not to quote the start of this letter:
 Remember me? Round, red, robustly raddled, a bulging apple among poets, hard as nails made of cream cheese, gap-toothed, balding, noisome, a great collector of dust and a magnet for moths, mad for beer, frightened of priests, women, Chicago, writers, distance, time, children, geese, death, in love, frightened of love, liable to drip.
[2] John Foster Dulles :  an opinionated political polymath.(.February 25, 1888 – May 24, 1959) served as U.S. Secretary of State under President Dwight D. Eisenhower from 1953 to 1959. He was a significant figure in the early Cold War era, advocating an aggressive stance against communism throughout the world. He advocated support of the French in their war against the Viet Minh in Indochina and it is widely believed that he refused to shake the hand of Zhou Enlai at the Geneva Conference in 1954. He also played a major role in the Central Intelligence Agency operations. However more recently Gil Scott Heron commented "John Foster Dulles ain't nothing but the name of an airport now" 
Dylan Thomas, Sherlock Holmes & the case of the Stolen Conversation
A STARTLING CASE OF WORD-THEFT HAS JUST COME TO LIGHT FEATURING some of the words of Arthur Conan Doyle.  As you would expect Holmes is on the case and a suspect has already been identified – none other than Welsh wordsmith DYLAN THOMAS!
Thomas has previous – in 1927 the young teenager sent the Western Mail – the National newspaper of Wales – a poem His Requiem – which he had cribbed from the  Boy's Own Paper where it had been published four years earlier. The Western Mail subsequently published the poem under his own name in the Wales Day by Day column.  In one of his autobiographical short stories, THE FIGHT, first published in Portrait of the Artist as a Young Dog [1940] Dylan alludes to his subterfuge and offers a  kind of confession;
       A poem I had had printed in the Western Mail was pasted on the mirror to make me blush,  but the shame of the poem had  died.  Across the poem I had written  with a stolen quill and  in flourishes: 'Homer Nods'.
It was some 40 years later that the theft came to light when his friend Daniel Jones included the poem in his new edition of Thomas' Poems [Dent 1971]. The daughter of the true author – Lilian Gard, happened to spot  her mother's work and  exposed the theft in the national  press and Daniel Jones was  forced to remove the poem from subsequent printings.
In the current case it appears that even as a mature writer Thomas was not averse to a little literary 'borrowing'.  In a recent   book – THE FIRST XV a selection of the best rugby writing [PARTHIAN 2011] the editors include an extract from Dylan's 1953 T V  script  A Story , which describes in humorous detail a boozy charabanc pub crawl by a group of West Walian village menfolk. In one pub they encounter a local braggart:
They stopped at the Hermit's Nest for a rum to keep out the cold. 'I played for Aberavon in 1898'
said a stranger to Enoch Davies.
'Liar,' said Enoch Davies
'I can show you photos,' said the stranger
'Forged,' said Enoch Davies
'And I'll show you my cap at home.'
'Stolen.'
'I got friends to prove it,' the stranger said in a fury
'Bribed ', said Enoch Davies.
It is this passage that  appears remarkably close to this from Conan Doyle's early Sherlock Holmes story
A  SCANDAL IN BOHEMIA:…
'Then I fail to follow your Majesty. If this young person should produce her letters for blackmailing or other purposes, how is she to prove their authenticity?'
'There is the writing.'
Pooh, pooh! Forgery.'
'My private notepaper.'
'Stolen.'
'My own seal.'
'Imitated.'
My photograph.'
'Bought'
Should we just dismiss this with a shrug that 'imitation is the sincerest form of flattery' or do we remember T.S. Eliot's adage –
     Immature poets imitate:
     mature poets steal
*I must thank Kerith Trick,  the son of Bert Trick, Swansea's communist grocer and  Dylan Thomas's influential friend and political mentor. It was Kerith who  first alerted me to this theft. It is also worth noting that once while visiting with Bert, Dylan heard his daughter Pamela ask him 'What colour is glory'. The question so intrigued and beguiled Thomas that he later used it in his note books poems and finally it appears in 'My World is a Pyramid' ,the penultimate poem in Dylan's first collection 18 Poems [1934]
Who blows death's feather? What glory is colour?
I blow the stammel feather in the vein.