Posted on | October 9, 2016 | No Comments
DYLANS BOOKSTORE SWANSEA – An ARTHUR MACHEN List – A small group of Machenalia from the library of the late  Geoffrey Wooley, who was born in Tredegar in 1915 and for 30 years, from 1953 until 1982, edited the highly influential Letters Page of The Times newspaper. He was a keen bibliophile and book collector who never lost touch with his Welsh Valley roots and was drawn to the works of local writers, many of whom he came to know. His obituary can be found here:
http://www.independent.co.uk/news/obituaries/geoffrey-woolley-times-letters-editor-whose-pages-helped-set-britains-public-agenda-1922896.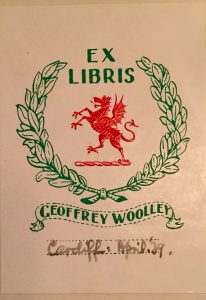 The Works of Arthur Machen: The Caerleon Edition of the Works of Arthur Machen. Martin Secker, [1923]. 9 vols., 8vo., First Edition, on laid paper, with a portrait frontispiece in photogravure (original tissue guard present); original oatmeal buckram, upper boards blocked and lettered in gilt, gilt backs, gilt tops, uncut. A very good, bright, crisp set. EDITION LIMITED TO 500 NUMBERED SETS each SIGNED BY THE AUTHOR IN FIRST VOLUME. This is set Number 136. [A further 500 numbered sets were produced for sale in the US].The definitive edition of Machen's works. The set comprises Vol. I: The Great God Pan, The Inmost Light, The Red Hand; Vol. II: The Three Imposters; Vol. III: The Hill of Dreams; Vol. IV: The Secret Glory; Vol. V: Hieroglyphics; Vol. VI: A Fragment of Life, The White People; Vol. VII: The Terror, The Bowmen, The Great Return; Vol. VIII: Far Off Things; Vol. IX: Things Near and Far. All volumes have Geoffrey Wooley's bookplate on the front pastedown and tipped into Volume 1 is a good  autograph letter – one and half pages with original envelope dated August 1944, from Machen to 'Dear Captain Wooley' in which Machen comments on recent biographies of himself. ……………………..…..£1000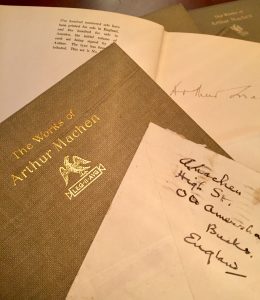 Notes and Queries. London: Spurr & Swift 1926.Edition of 265 SIGNED COPIES – this being  copy 133. Original green Buckram with paper label a tad stained [a second label is tipped inside back page] .This title collects papers that originally appeared in "T. P.'s Weekly" (1908-9)..  good copy of a scarce book..……£110
Dreads and Drolls. London: Martin Secker, 1926. COPY NUMBER 1 of a Limited Edition of 100 SIGNED copies. Original parchment and paper binding .On the front endpaper this copy is  further SIGNED and Dedicated by the Author to his Monmouthshire friend Albert Adams Williams, dated October 21st 1926. In effect the 'dedication copy. A very fine and desirable copy. A collection of curious stories taken from British history, "most of these strictly veridical", many linking to Charles Dickens. GOLDSTONE & SWEETSER 34a………………..£150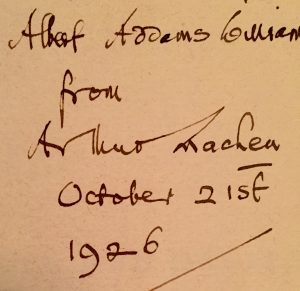 Henry Danielson, Arthur Machen, Henry Savage (Introduction) Arthur Machen : A Bibliography (Signed, Limited). London: Henry Danielson, 1923. "This Edition, printed on English hand-made paper, is limited to 150 copies for both England and America, numbered and signed by Arthur Machen. This is No. 17.", with tissue guarded frontispiece portrait. Paper covered boards show slight wear, and age. Gilt title to front board still very bright. Thick vellum spine light lightly aged . Sewn binding extremely tight. Silk page marker present, as called for. :aid into the book is an early Machen booklist from Kyrle Fletcher, a newpaper cutting re Machen as Actor and an early issue of The Silurist –  The Machen Society Newsletter……….£75
Beneath the Barley – a note on the origins of Elueusinia. London, 1931, Privately Printed in an edition of just 25 copies . Text signed by Machen. Wood engraved portrait of Machen signed by the artist Edward Carrick. With a signed presentation inscription to Henry Spurr from the printer T. Fytton Armstrong and John Gawsworth – Machen's Biographer. RARE……………………………………………………………………….SOLD
A fine early 7 page Autograph Letter from Machen to 'My dear Mr. Ker**** Dated July 1919 on embossed paper. Mentions J.K.Jerome, Watts Duncan, Swinburne and Harold Begbie who accused Machen of  lying  in his book The Bowman………….£450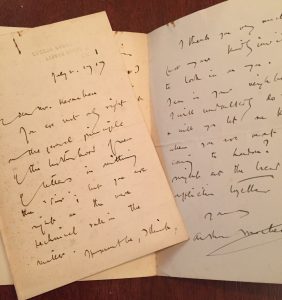 Romance of The Echoing Wood. By W.J.T.Collins. Newport: R.H. Johns, 1937. Introduction by Arthur Machen and an epilogue by Newport poet William Henry Davies. Charming art noveau borders and illustrations by E.F. Powell.  Limited edition of 220 copies – This copy number 37 of 50 'Special' copies bound in full green morocco gilt and SIGNED  by Arthur Machen, W.H. Davies, the author, the artist and the printer. Original prospectus tipped in. A handsome and scarce book ……….£200
Monmouthshire Writers by W.J.Townsend. Johns Newport 1945. Geoffrey Wolley's review copy with his letter from Trewin at The Observer commissioning him which has his review notes on the verso and a cutting of his review. The book contains a portrait and account of Machen …………………………………………………….SOLD
DYLANS BOOKSTORE SWANSEA
jefftowns@dylans.com
Comments